The report below in Persian on the deteriorating state of Ctesiphon archway was originally produced by the Tabnak News Agency on Monday August 30, 2010.
=================================================================
طاق كسری و مرگی تدریجی
تاق خسروانی، یادگار شکوه ایران باستان، با بی توجهی عراق، روز به روز به پایان خود نزدیکتر می‌شود. پرسش اینجاست، کشورمان تا کنون برای حفظ این میراث ایرانی، چه کرده است؟

به گزارش پایگاه اطلاع رسانی شبکه خبر، روزانه ایرانیان بسیاری با هدف زیارت به کشور عراق سفر می‌کنند، با وجود این، درصد اندكی از آنان حتی می‌دانند یکی از با شکوه ترین آثار معماری ساخته دست پدرانشان، در این کشور واقع است.طاق كسری یا تاق خسرو (ایوان مدائن)، در شهر مدائن و در 35 كیلومتری جنوب بغداد در استان دیاله قرار گرفته است و به نظر می‌رسد اتفاق بدی نمی‌افتد اگر تورهای زیارتی و سیاحتی که وظیفه گرداندن ایرانیان را بر عهده دارند، تدابیری بیندیشند که ایرانیان بتوانند از تاق خسروانی نیز دیدن کنند.این کار دو مزیت دارد: نخست اینکه ایرانیان زائر، با تاریخ کشورشان نیز بیشتر آشنا می‌شوند و دوم اینکه عراق در صورت افزایش شمار بازدیدکنندگان از این اثر تاریخی مجبور می‌شود حفظ و مرمت و رسیدگی به زیرساخت‌های گردشگری این اثر تاریخی ایرانی را جدی تر بگیرد.تا هنگامی که خودمان جهت حفظ و نگهداری از میراث فرهنگی سرزمینمان کوشا نباشیم، نه تنها دیگران برای حفظ و نگاهبانی از داشته‌های فرهنگیمان دل نمی‌سوزانند، چه بسا (با تجربه‌ای که در این زمینه وجود دارد)، در جهت نابودی هر آنچه در منطقه به نام آثار ایرانی وجود دارد، همه ابزارهای خود را به کار گیرند.به جایی بر نمی‌خورد اگر از بودجه‌های هنگفتی که برای سازندگی عراق سرازیر می‌شود، مبلغ ناچیزی نیز به حفظ، نگهداری و مرمت طاق کسری و توسعه زیرساخت‌های گردشگری این بنای ایرانی اختصاص یابد.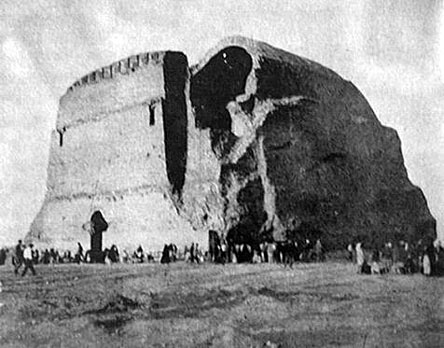 • نابودگران تاریخی طاق کسری
خوشبختانه توده مردم عراق با توجه به ریشه‌های مشترک تاریخی با ایران، هیچگاه درصدد نابودی آثار ایرانی کشور خود نبوده و نیستند. مشکل اصلی در این زمینه، حکومت‌های نژادپرست و خودکامه و افراد متعصبی هستند که با ایران و ایرانی دشمنی و کینه تاریخی دارند؛ دشمنی و کینه‌ای که باید از لحاظ جامعه شناسی، درباره آن کنکاش تاریخی صورت گیرد.هارون الرشید، خلیفه عباسی کوشید طاق کسری را کاملا ویران کند، ولی در انجام هدف خود ناکام ماند.• صدام و تلاش برای نابودی کاخ خسروانیتاق خسرو تا اواخر حكومت رژیم بعث عراق، به عنوان یكی از مهمترین تفریح‌گاه‌‌های اعراب شناخته می‌شد، اما رژیم بعث كه تاب این استقبال را نداشت، اقدام به تخریب بیشتر این مكان كرد.نخست به دستور صدام، موزه ‌ای از عكس ‌های وی به شیوه‌ ای مدرن نزدیك این مجموعه تاریخی ساخته شد كه هدف از آن، تغییر مكان تجمع مردم از ایوان مدائن به آن مكان بود. اما این موزه نتوانست جایگاه باارزش ایوان مدائن را نزد مردم تغییر دهد؛ از این رو صدام دستور تخریب برخی مكان‌ها و دیوارهای باستانی این مجموعه را صادر كرد.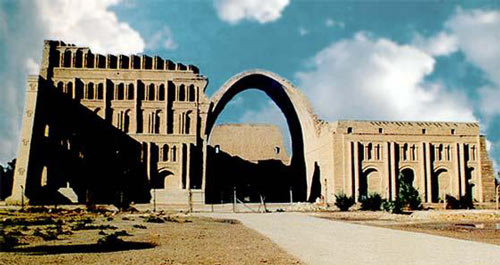 این جنایتکار نژادپرست حتی در نوشته‌‌های سنگی قدیمی مجموعه نیز دست برد و به عمد، اسم خود را وارد آنها كرد تا با خدشه‌ دار كردن این مجموعه تاریخی، مردم را از تجمع در آن باز دارد. این عمل وی سبب شد تا یونسكو، با ارسال نامه‌ ای از این اقدام دولت عراق شكایت كرده و پس از آن، طاق كسری و ایوان مدائن را از فهرست آثار ثبت شده یونسكو حذف كند.
پس از مدتی، رژیم بعث، سفر به این مكان را ممنوع اعلام كرد و با گذشت یك سال از منع سفر به آن، صد و هفتاد نفر از متخلفان را به جرم رفتن به این مكان، اعدام كرد. پس از این واقعه، این مكان متروك باقی ماند و هیچ اعتنایی به آن نشد و روز به روز بر فرسودگی و خرابی‌‌های آن افزوده شد.• تاق خسرو و تروریست‌های فرهنگیدر پی تصرف عراق به دست نظامیان آمریكا و هم پیمانانش در سال 2003، آسیب‌های بسیاری به این مكان وارد شد؛ به گونه ‌ای كه در پی درگیری‌های پیاپی نظامیان خارجی با نظامیان بعثی، این مكان نیز هدف گلوله و بمب ‌های دو طرف قرار گرفت. این در حالی بود كه پس از آن، امكان سفر به این مكان برای مردم مهیا شده بود و رونق از دست رفته، به تدریج دوباره به آن باز می‌گشت.با شروع فعالیت گروه‌های تروریست در عراق، وضع مجموعه ایوان مدائن باز هم بدتر شد. در ماه فوریه 2005، تروریست‌‌ها با انجام یك عملیات تروریستی، قسمتی از ایوان مدائن را تخریب كردند كه از آن به عنوان بزرگ ‌ترین آسیب به این مجموعه پس از اشغال عراق یاد شده است.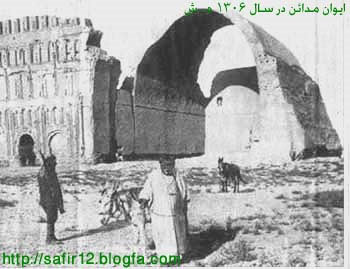 در پی اعلام خطر نابودی این مجموعه تاریخی ارزشمند در عراق، مقامات میراث فرهنگی ایران اعلام كردند قصد دارند با كمك یونسكو، این مكان تخریب شده را بازسازی كنند و دوباره آن را به جمع آثار ثبت شده در اسناد میراث فرهنگی یونسكو بازگردانند.
بر خلاف انتظار، این عمل پسندیده ایرانی ‌ها را اعراب افراطی و تندرو، مداخله در امور عراق و راهی برای حاكمیت بر این كشور تعبیر كردند؛ به گونه‌ ای كه یكی از پایگاه‌های اینترنتی عرب، موسوم به الصوت العروبه نوشت: «ایرانی‌‌ها با كمك سپاه پاسداران و سازمان اطلاعات خود، به بهانه‌ بازسازی ایوان مدائن كه یادآور ستیز پیشینیان آنها ضد پیغمبر اسلام (ص) است، می‌ خواهند عراق را به تصرف خود درآورده و یاد و خاطره سلسله‌ گذشتگان كفار خود را زنده كنند.»البته مقامات عراقی نه فقط تا كنون پاسخ منفی‌ به مقامات ایرانی نداده ‌اند، بلكه حاضر به همكاری و ادامه مذاكرات با مقامات ایرانی در این باره نیز شده ‌اند. البته این مذاكرات به سبب وجود ناامنی در عراق به تعویق افتاده است. اما مقامات عراقی اطمینان داده ‌اند كه به حرف‌‌های مغرضانه برخی رسانه ‌های عربی گوش نخواهند داد و با كمك ایرانیان، میراث فرهنگی خود را كه مشتركات زیادی با ایرانیان دارد، بازسازی و زنده خواهند كرد.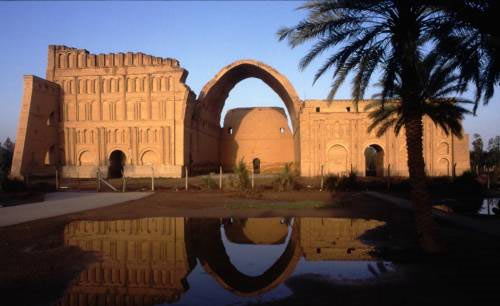 • چیستی تاق خسروانی…
طاق کسری (تاق خسرو) یا ایوان مدائن، کاخ پادشاهان ساسانی در شهر «اسبانبار» در ساحل خاوری رود دجله و از مهم ترین سازه ‌های دوران ساسانیان است، محلی که در شهر مدائن در 35 كیلومتری جنوب بغداد کنونی در استان دیاله که از استان‌های مرزی و شرقی عراق است، قرار گرفته است.بیشتر گمان می‌ شود که طاق کسری در تیسفون جای‌ دارد، ولی تیسفون، اسبانبر و چند شهر کوچک دیگر مانند بغداد، روی هم شهرگان یا مدائن را تشکیل می‌ دادند. طاق اصلی این کاخ، بلندترین طاق خشتی ساخته شده به دست انسان است. بلندای این طاق 35 متر، پهنایش 25 متر و درازایش 50 متر است.بنا بر آنچه در نوشتار پهلوی خدای‌ نامگ آمده ‌است، این کاخ به دستور شاپور اول ساخته ‌شده ‌است.بسیاری نیز ساخت این کاخ را به نوشیروان بزرگ، شاه مشهور و مقتدر ساسانی نسبت می‌دهند.برخی نیز اینچنین می‌گویند که تاریخ ساخت این بنا، به زمان اشكانیان باز می‌‌گردد كه در زمان ساسانیان به دستور انوشیروان ساسانی بازسازی و توسعه یافته است.
گفتنی است شیوه معماری این بنا پارتی است.
مدائن در حقیقت همان تیسفون، پایتخت سلسله ساسانی است كه با حمله اعراب و تصرف آن به دست آنها، به مدائن تغییر نام یافت.
این شهر در روزگار خود، از چنان زیبایی‌ ای برخوردار بود كه اعراب ساده سپاه اسلام وقتی آن را فتح كردند، به چنان حیرتی دچار شدند كه گفتند تیسفون همان بهشت موعودی است كه پیغمبر وعده ‌اش را به ما داده بود !
پس از آن، این شهر تبدیل به تل ویرانه ‌ای شد كه زیبایی گذشته خود را هرگز باز نیافت.
این كاخ پس از حمله اعراب، به كلی نابود شد و جز ویرانه ‌های طاق آن كه ارتفاعی در حدود 70 متر دارد و شماری از دیوارهای كاخ هیچ چیز باقی نماند.
در گذر زمان، شهر پویایی خود را باز یافت. قرن‌ها بعد، این مكان به یك تفرج‌گاه زیبا برای مردم تبدیل شد كه همه ساله پذیرای خیل عظیمی از مردم عراق بود كه با وجود هوای بسیار خوش و باغ ‌های وسیع به آنجا سفر كرده و وقت خود را در كنار بقایای طاق كسری و دیوارهای اطراف آن می‌ گذراندند.
مردم عراق و اعراب منطقه از این بنا نه به سبب پیشینه تاریخی، بلكه به علت سندیت اسلامی آن مبنی بر اینكه روزی كه پیامبر اسلام (ص) به دنیا آمد، طاق بلند آن شكاف خورد، از آن یاد می‌ كنند.
طاق کسری بقایای تالار بزرگ عهد ساسانی در محل تیسفون، عراق حالیه، که جزء کاخ سلطنتی بزرگ معروف به ایوان کسری بوده ‌است؛ طول و عرضش را به ترتیب حدود 365 و 275 متر تخمین زده‌اند. این ایوان در محله جنوبی تیسفون موسوم به اسفانبر یا اسانبر واقع بود.
در مجاورت طاق، چهار دسته ویرانه مشاهده می‌شود که جالب‌ ترین آنها تلّی است معروف به حرم کسری؛ این ویرانه ‌ها جزء ایوان کسری بوده ‌است. به فاصلهٔ حدود ۴۶۰ متری جنوب شرقی طاق، بقایای ساختمان ‌هایی مشاهده می‌شود که تا گوشهٔ دیوار معروف به بستان کسری، که شاید حصار باغ وحش بوده ‌است، امتداد دارد.
در فاصله حدود 190 متری جنوب غربی بستان، تلی به ارتفاع 6 الی 5/ 7 متر واقع است که قاعده ‌اش چهارگوش است. معروف به تل‌ الذهب (تل طلا) یا خزانهٔ کسری است و آن ظاهراً در اصل بنای واحدی بوده که خسرو پرویز برای خزائن خود ساخته بوده ‌است.
طاق کسری که بزرگ‌ترین و نظرگیرترین یادبود عظمت گذشته تیسفون است، در وسط ویرانه‌‌های مدائن قرار دارد.
• فردوسی پاکزاد و تاق خسروان
فردوسی در شاهنامه خود پس از اشاره به داستان ساخت این بنای باشکوه، چنین می‌گوید که در برابر ایوان تیسفون، پرده بسیار مجللی آویزان شده بود جواهرنشان که پس از یورش اعراب توسط مهاجمان، قطعه قطعه و میان آنها تقسیم شد.
هنگامی که کاخ تسیفون برپا بود، در روز بار عام، شاهنشاه روی تخت طلای خود می‌نشست و چون تاجی که باید برسر بگذارد، بسیار سنگین بود، آن را به زنجیری از طلا در بالای سر شاهنشاه از بالای طاق، طوری آویزان می‌‌کردند که در بالای سر وی قرار گیرد. (همین کارها را در همین اواخر برای پادشاهان قاجاریه انجام می‌ دادند و این نشانه این است که این رسوم، از دهان به دهان تا دوره ‌های جدید ادامه یافته ‌است)
سپس اعیان و طبقات مختلف امپراتوری در بیرون پرده، صف می‌‌کشیدند و طی مراسمی، پرده را کنار می‌‌زدند و شاهنشاه ایران باشکوه و جلال مخصوصی روی تخت خود پدیدار می‌گشت و به طبقات مختلف بار می‌ داد.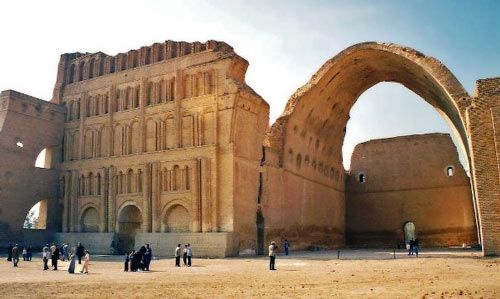 • هان ای دل عبرت بین …
و چه خوش گفت خاقانی به شاهان و رهبران خودکامه همه اعصار تاریخ، هنگامی که شکوه بر باد رفته تاق خسروان را مشاهده کرد:
هان ای‌ دل‌ عبرت‌ بین‌ از دیده‌ نظر كن‌ هان‌
ایوان‌ مدائن‌ را آیینه‌ عبرت ‌دان‌.. مست‌ است‌ زمین زیرا؛ خورد است‌ به جای‌ می‌
در كاس‌ سر هرمز، خون‌ دل‌ نوشروان‌كسری‌ و ترنج‌ زر، پرویز و تر‌ زرین‌ بر
بر باد شده‌ یكسر، با خاك‌ شده‌ یكسان‌